October is National Domestic Violence Awareness Month (DVAM). In the coming weeks, all across the country, a wide variety of activities and events have been planned in the spirit of uniting all those who have been affected by and who are working to end domestic violence. In addition to creating a sense of true unity around this serious social problem, Domestic Violence Awareness Month is a time to mourn all those who have lost their lives as a result of domestic violence, to celebrate the lives of those who have survived, and to help raise further awareness of this issue in the U.S. and around the world.
In honor of DVAM, I wanted to introduce you to someone I really admire, someone whose work is helping to raise further awareness of domestic violence, author Rebecca Leo. I was first introduced to Rebecca during the Kickstarter fundraising campaign for You Look a Lot Like Me, and over the years, I have been fortunate enough to become acquainted with her writing. Her recently released novel, The Flaws that Bind, is a very important and beautifully written book. I asked Rebecca if she would be willing to share a little bit about herself and her work with all of you. She very kindly agreed.
Hope you enjoy!
Chloé McFeters
—
CM: I was honored to be able to read and review your new book, The Flaws That Bind. It was such a vulnerable and inspiring account of one woman's struggle with domestic abuse. Congratulations! How does it feel to have this story set free in the world?
RL: I feel as if a weight has been lifted from my back. The book which I've been working on for over fifteen years has now taken flight. What a relief to see it sailing, like a kite! Who knows where it will go? I also notice that I have been smiling more, just feeling happy, more so than before. I have accomplished a long sought after goal, something that I never knew if I would achieve, and now I have. Hurray! It gives me feelings of relief, happiness, contentment, and confidence.
CM: Through our connecting on this topic, I became aware that you, like me, are a survivor of domestic abuse. How would you say that your personal experiences with domestic violence shaped the richly layered characters you crafted in The Flaws That Bind?
RL: I've had an adventuresome life, filled with many interesting persons. Some characters in the book were inspired by them. And in several cases, characters were composites of two or more people I've known.
CM: Much of the novel is set against the backdrop of Jamaica in the 1970's. You did an exquisite job of bringing the beauty of Jamaican culture to life on the page, but you were also able to capture the palpable turbulence of the time in a way that allows the reader to really appreciate the frustration and hopelessness that many young Jamaicans were undoubtedly feeling. I sensed a deep respect and affinity for the country in your writing. Is Jamaica a place that holds a special spot in your heart? If so, can you share a bit about that?
RL: Jamaica does indeed hold a special place in my heart. After getting my children away from their abusive father, I did not return for over 15 years. But in the past 20 years we have gone there many times. It continues to draw me back, as if it were my birthplace. I think that is because it is the birthplace of my children, and that makes it my home forever. But it's not only that, Jamaica is a beautiful island with perfect climate and kind people. I feel so connected with the island that I have considered having my ashes buried there and/or scattered in the Caribbean Sea off the shore of Jamaica.
CM: I fell in love with the character of Jac. What can you share with us about her?
RL: I love her, too…. like a daughter. Sometimes I just want to shake her, knock some sense into her. Other times I applaud her courage. And I agonize with her suffering and sorrow over how different her life has developed from her lofty dream of being a better parent than her own were. Always I root for her, want her to find a safe way out of the very dangerous predicament for the children and herself. I understand her worst fear that either David or she will kill the other and then the children will be sent to foster homes.
CM: You say that sometimes you just want to "shake" Jac. I have, many times now, heard (and witnessed) that same sincere heartbreak and frustration from a loved one, the family member or friend of someone who is being abused. In the past, I personally experienced that frustration from others, and I have also felt it myself when friends I love were being abused. It can be so sad and so difficult to stand by and watch while someone you care about is being subjected to disrespectful, controlling, and often dangerous behaviors, and it can be even harder to understand why your loved one isn't leaving the relationship, even after you may have offered help.
As someone who has experienced domestic violence firsthand, what insights can you share for those family members or friends who might be faced with the deep desire to help someone they know is being abused, but who might also feel helpless, frustrated, or unsure of what to do?
RL: The subject is/has been so taboo. It's hard to bring it up with victims because they are generally ashamed of what's happening to them and/or are in denial. Plus they are afraid that the abuser will find out that they have told. So one could be creating a dangerous situation for the victim.
I think that a concerned friend or family member needs to let the abused person know of their concern for her/his welfare, safety and happiness, and that they are available to listen and to help without making judgments. It would help if that person is able to admit to being in a similar situation. That honesty can open a gate that releases a flood of confessions. But the concerned person should have no illusions that they can fix the problems. The best thing they could do if the victim confides in them, is get her/him to professionals. Connect her/him with the National Domestic Violence Hotline at 1-800-799-7233 (SAFE). They will refer you to an organization in your area.
CM: Jac's family life is… complicated. Can you talk about the reality that so many victims of domestic violence face: that sometimes simply going home isn't an option because that home doesn't actually exist?
RL: This brings us to the generational component in domestic violence. It's very real for many reasons, depending on the circumstances. The child may have been physically, mentally or sexually abused, or all three. In any case, home is not a safe place. When that is the case, the child has been effectively abandoned. She (or he) is on her own, without protection, and therefore incredibly vulnerable in the society to anyone who would take advantage. And thus the cycles of abuse are repeated from one generation to the next. When Jac eventually gets therapy she discovers all this and dedicates herself to breaking that cycle. More about that process in the sequel.
CM: As part of her journey, Jac begins practicing the healing art of massage. I found it so poignant that Jac was able to use her hands to provide comfort and relaxation to others at a time when she herself was suffering such brutality at the hands of someone very close to her. Touch requires a certain level of intimacy and trust, precious gifts that painfully eluded Jac for many years. Do you think that massage could/should be more widely used as a healing tool for those who have been victimized by violence?
RL: A good question. My answer is "Yes." But only at the hands of a very skilled, experienced and aware practitioner. There are many different massage techniques. My favorites are Shiatsu (acupressure) and reflexology. I think they are especially effective in releasing pain resulting from emotional trauma.
Although I have not used it personally, I've heard that Reiki is also very good.
CM: In your own life, what were some of the healing tools you utilized after leaving your abuser?
RL: Yoga, meditation, massage, counseling, reading, supportive friends, writing, dancing, and forgiving myself.
CM: I've learned in doing this work for more than eight years now that many, many people still view domestic violence as solely physical violence. Why do you believe it might be difficult for some people to acknowledge or recognize other forms of domestic abuse?
RL: Perhaps because the scars are not visible. Essentially any behavior which involves controlling another person through fear is a form of abuse. This can include fear of not being loved, fear of being abandoned, fear of being ridiculed. Exercising control with these behaviors is also used in parenting. This is not something that can be controlled by legislation, but it could become part of an expanded mental health program. As one TV personality recently pointed out, "We take care of children's physical health and dental health, but not their mental health." He has become an advocate of adding that to our health services — lifetime mental health checkups and care.
CM: Your story is clearly one that will raise further awareness about domestic violence, as the themes you explore in The Flaws That Bind are still as relevant as ever today. What are some things that you would like to convey to the public about this issue?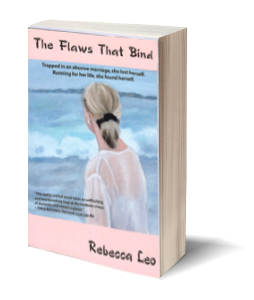 RL: With the publication of this book I have committed myself to be active in the effort to bring domestic violence out of the proverbial closet. It is a hidden crime because of the shame involved. Victims are ashamed, but in hiding the abuse they also protect the abuser. Victims are also afraid, for it is typical of abusers to forbid them to tell anyone, and that includes neighbors, friends, fellow workers, police, and relatives.
My message to readers is to be more aware of signs that someone you know may be a victim in need of help and find a way to reach out to that person. Talking about the abuse is one way to take away the power of the silence that surrounds it.
The quest for equal rights for women began centuries ago. Women were freed from slavery. Then we gained the right to vote, to work, to use birth control, to join the military, but we are still working for the right to equal pay for equal work, the right to have paid maternity leave, and the right to live free of sexual and physical abuse in the workplace and in our own homes.
Essential to this struggle is improved availability of mental health services. Since the widespread closing of mental hospitals in this country decades ago and the dearth of affordable mental health treatment, there has been an escalation of gun violence, and also of partner violence, which includes date rape and abuse. Increased public awareness of the problem is necessary if we are to see an expansion of services to treat perpetrators and more facilities to protect victims and support them in remaking their lives.
CM: I know that The Flaws That Bind is not your first book. What can you tell us about the others?
RL: The first book I wrote (on a typewriter) is titled Loving Touch for Your Child. It has not yet been published. If I were to revise it for publication, I may change the title back to the original one, Spare the Rod and Massage Your Child. I would appreciate feedback on which title is more appealing. Parents of young children are the target audience. The book explains how to use techniques of Shiatsu and Reflexology effectively in dealing with both health and behavior issues as well as for improving school performance. It is well illustrated with professional photos and drawings.
I contributed two chapters to The Revision Process by Robin Stratton. This is an excellent handbook for writers, and to this day I use it as a refresher course to help me write better.
I have also written two screenplays. The Bee Preacher is based on the life and accomplishments of an impoverished and uneducated Jamaican beekeeper. Angered and stymied by injustices of the colonial class system, he emigrates to the U.S. at the beginning of the 20th century and works himself ragged until he becomes a broadcasting pioneer by establishing the first regular broadcast ministry in the U.S. But the toughest challenge is to forgive himself for the secret guilt that haunts him.
Yankee Swap, a comedy designed for winter holiday entertainment, features an extended family gathering wherein guests bring wrapped gifts to exchange in the New England tradition of re-choosing opened presents. When some people are unwilling to give up their gifts according to the established rules, arguments start and hurt feelings soon escalate out of control. One guest whispers to the hostess, "We gotta do something quick, or this family will never recover. It could be the end!"
CM: I read that you used to teach writing in the Boston area. What advice would you give to an aspiring writer who may be reading this interview, hoping to one day publish a novel of their own?
RL: Remember the old saw: Every journey begins with a single step. Likewise, every book begins with a single sentence. Do not be daunted by the enormity of the task. Just start somewhere and allow the story to unfold… one sentence, one paragraph, one page at a time. And then keep going. Do NOT, I repeat, DO NOT get stuck trying to make any sentence or paragraph perfect. That is the beauty of computers/word processors: we can go back and revise again and again and again. Just get the thoughts out there on paper as fast as they pour from your mind.
Perhaps the most important factor in the development of my writing was participation in a writing group. The makeup of my group changed a bit over the years, but we generally met once every two weeks to exchange and critique manuscripts. Three members remained steadfast for at least a dozen years, and since I left Boston we have continued exchanging and critiquing manuscripts via the Internet.
CM: Do you have any treasured writer's rituals that you can share with our audience?
RL: I can't think of any rituals per se, except that I generally have a cup of coffee or tea on my desk that I frequently sip on. I also am constantly reading good books. Before I began what became the final rewrite of The Flaws That Bind I discovered that I liked the writing style of Daphne du Maurier a great deal. And so I loaded up on every book by her that I could lay hands on and read them. Sometimes I read aloud, listening to the prose. Thus her style got into my head and gave me confidence as I rewrote Flaws. And throughout the editing and proofreading I continued to read aloud. So many errors can be found that way, by hearing them, but which the eye misses when reading silently.
CM: What inspires you to tell stories? How have those sources of inspiration changed for you over the years?
RL: When I was a young child I enjoyed listening to my mother read books aloud, not just storybooks, but novels like Robinson Crusoe and Tom Sawyer. Later, writing in a diary became a daily ritual. Then I started writing poems and stories, but I really wanted to write a novel. It was the encouragement of my loving husband that finally gave me the confidence to undertake that task. He makes me feel special and supported.
CM: We have both had work published through Big Table Publishing. For me, it was a true joy to work and collaborate with their acquisitions editor, Robin Stratton, who also serves as editor-in-chief of the Boston Literary Magazine. Can you talk a bit about the experience of working with Big Table on this project?
RL: Like you, I am eternally grateful for the direction, support, expertise and resourcefulness of Robin Stratton. She has never wavered in her steadfast professionalism and endless patience and creativity.
CM: I know that you participated in a book signing tour for The Flaws That Bind over the summer. What was that like?
RL: It was rather like a roller coaster ride: terrifying, fun, interesting, exhilarating and also exhausting. Most importantly, it was a learning experience and confidence builder. Now when faced with promotional appearances, I am more relaxed and confident that I can deal with whatever comes up. The most surprising thing to me on the tour was how many women came up to me and quietly told me they had also been victims of DV. I know they were speaking confidentially, that even their friends didn't know what they'd been through. This made me realize how much shame there is around the subject and how important it is to break that barrier which keeps women enslaved.
CM: Will you be participating in any activities or events during National Domestic Violence Awareness Month?
RL: Yes, several are planned: Two at libraries, one at a bookstore, and one at a women's resource center where I'll be addressing the graduating class of a new group who have just finished training to be crisis hotline operators.
CM: You have become acquainted with a number of domestic violence organizations as a result of working on and releasing The Flaws That Bind. Are there any in particular that you would like to highlight here?
RL: Yes. The two that I have been most active supporting are the Women's Resource Center in Oceanside, CA (www.wrcsd.org) and the Leap To Success organization in Carlsbad, CA (http://www.leaptosuccess.org), both of which are working to transform the lives of women and children who have been victims of domestic violence. I respect their efforts very much, for the work is dangerous and unglamorous, while also being very rewarding when clients are able to transform their lives and families.
CM: The Flaws that Bind was released not too long ago and we want to be able to tell people how they can get their hands on a copy. Please tell us where to find your book.
RL: Signed copies can be purchased on my web site: www.RebeccaLeo.com. Unsigned copies and Kindle versions are available on Amazon.
CM: Where can people go to learn more about you, your work, and any future projects?
RL: Again they can go to my web site (see above), or they can check on my Facebook page which is at: https://www.facebook.com/RebeccaLeoAuthor.
—
On Thursday, Oct. 16, at 7 pm, at the Upstart Crow Book Store in Seaport Village, 835 W Harbor Drive, San Diego, CA 92101, Rebecca will be talking about how she survived extreme abuse and reading passages from her recently published memoir-based novel, The Flaws That Bind. The book takes place largely in Jamaica, West Indies. She will then answer questions and monitor a discussion about combating and preventing these insidious crimes. Signed copies of her book will be available for purchase.
On Saturday, Nov. 1, National Authors' Day, Rebecca will be at the Mission Branch of the Oceanside Library, 3861B Mission Avenue, Oceanside, CA, at 2 p.m. where she will talk about surviving domestic violence, read excerpts from her novel, and answer questions. Signed copies of her book will be available for purchase.
For more information on DVAM events around the country, please visit the website for the National Resource Center on Domestic Violence (NRCDV).
For more interviews, updates, and more, please join our mailing list today, and don't forget to stay connected on Facebook and Twitter.
If you enjoyed this post, please help us spread the word by sharing it with your social circles. Thank you for your support.